"Perfect goodness can never debate about the end to be attained, and perfect wisdom cannot debate about the means most suited to achieve it."
– C.S. Lewis
Oh that's right, we're talking about Wise men, not Wise Guys…got it.

I had always envisioned the wise men miraculously showing up just at the nick of time at the nativity of Jesus, but entering just minutes after the shepherds and other townsfolk took their leave.

It didn't dawn on me as a young man that their journey may have taken them a very long time. Some scholars even suggest that the Magi (aka the Wise men) did not visit Jesus as a new born but rather when He was 2 years of age. Imagine that, devoting your life to the study of the stars only to discover a very, very bright star…or was it something else?

Professor David Hughes in the 1970's surmised that perhaps the "star" that the Magi saw, wasn't a star at all, but rather a triple planetary alignment, or 'triple conjunction'. This kind of phenomenon only takes place every 900 years or so. This would have been a very alarming event for ancient astronomers such as the Magi to witness. They would have felt compelled to investigate, to seek out and to discover the wonder of such a sign.


What sort of signs and wonders do we need in order for us to seek the newborn Kings? Do we still seek after Jesus? Is there still awe and wonder involved in our search? Or, have we become jaded and perhaps deaf to His still small voice?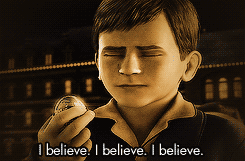 One of my favorite modern Christmas movies is the Polar Express. We watch it as a family once a Christmas season and it still brings a tear to my eye. There is the simplistic message of "I believe" which comes through loud and clear as the little boy closes his eyes attempting to recapture his child-like faith in Santa Claus and the true mystery of Christmas. At first he couldn't hear the jingle of the sleigh bell, but he is determined and in an emotional scene he recaptures his childhood with the jingle of the bell.

If only belief in Jesus were that simple.
Some find it easier than others to uncover the wisdom of the season year after year…while others, because of personal history, family tragedies, a hectic work schedule (the list goes on)…find facing the Advent season again daunting and some, date I say, find it almost unbearable. But the thing is Advent isn't just a season. Yes, we recognize Jesus' birth, as we ought to in a religious calendar year-sort-of-way…but belief in the Messiah should not be limited to just four weeks of recognition. It needs to go deeper than that. True wisdom takes us from a place of ignorance and shame to the very foot of the Throne room of Heaven in penitent manner of constant worship.

You see, going to church doesn't make you a Christian any more than sitting in an airport makes you a pilot…what does make you a Christian is love and the deep need to want a relationship with the Creator and Sustainer of all life. Without this desire, we are mere seat warmers, heads to count on the stats line and a member of a social club. True faith runs deeper than an emotion, a preference to a pastor, sermon style, music style or architectural style. Regardless of ambiance, setting, and worship style, faith and love ought to drive us to our knees before the Maker of the Universe who stepped out of Heaven, assumed human form and showed us how to live and love.
Seeking after God constantly IS WISDOM.
Learning, studying, applying and living for Him is wisdom on display.
One might say, "but I'm not smart enough" or "I'm too old to learn"…this is nonsense. Gaining Heavenly wisdom takes place just as a toddler learns to first walk. The child takes one step at a time, and before you know it, they are walking and even running. So it is with Godly wisdom. We never presume to 'know it all', for Godly wisdom is infinite and will never be contained in the finite mind. But, we can say to ourselves and to God, "I don't have much to offer you Lord, but what I do I have I give it all to You, use me." From this place of penitence and humility we begin (or begin again) our search and study of the Most High. From our search and study comes worship, and from worship – adoration and love.

(In the midst of this pondering I cannot help but think of a friend and session-mate who suddenly and tragically lost his wife Miranda this week. My heart hurts for him, his family and children. I read his post on Facebook and it brought tears to my eyes to read the deep, unimaginable pain in those words, and yet he expressed in those sentences a testimony of faithfulness to God even in this horrible season. Even in this time of mourning, he testified to their love of the Lord and a deep reliance and trusting in Him. This is wisdom that the world will never comprehend and yet we have an amazing eternal promise that all of us cling to in this time of tragedy. To RC and the Duskin, and extended family we send our constant love, support and prayers in this very difficult time.)

Prayer:
Lord, teach us to love you with fresh eyes today.
Help us to seek after You with all of our might.
Thank you for this season of Advent. May we seek after your wisdom that is eternal more than the wisdom of this world that is temporal and fading. Protect us as we labor in the many fields of service this week. May Your light be seen in us and may others be drawn to You. It is in Your name we pray all of these things. -Amen.