"…What is mankind that you are mindful of them, human beings that you care for them?" Psalm 8:4.

Do you know that about God's love?
Most of you would answer, "why, yes of course I do!"
But, what if I asked you, "do you personally know God's love?" Does that change the dynamics of this conversation? I mean, do we really, truly, deeply know that God loves us?

What if I asked you, "Do you know and love Him in return?" Some of you might begin to think I am meddling. Others, when thinking about this particular question, might discover the answer is not that simple. We as humans tend to make things more complicated than it really should be, and our understanding of loving God, might be tainted or influenced by the current situations of our lives – for good or bad. When we respond to the question "Do you know and love God?", some might consider the it but then offer the response, "well, do I really know God loves me? How can I know this when my life is so troubled right now?"


In spite of ourselves…
God's one and only Son entered into this world so that we might be saved from sin and death…in spite of ourselves. In spite of our over complications… In spite of our bad days, months or years… In spite of every bad decision we have made, or potentially will make – God introduced flesh and blood, holiness into our impure world.

Have you ever been blessed with a gift from someone that cares for you and it was completely and utterly unexpected? How did it make you feel? Did you find yourself at a loss for words of appreciation? Did you feel embarrassed because you didn't have anything to give in return? With God it is like that, but He doesn't want us to feel guilty or embarrassed because we couldn't possibly match the gift that He has given to us. He wants us to know how much we mean to Him. He provided us with the ultimate gift of love and grace – His Son Jesus Christ, who came to be our blood sacrifice, so that in His death we might be free from sin and death. He was born. He lived. He died…all for you, me and for every person in our world.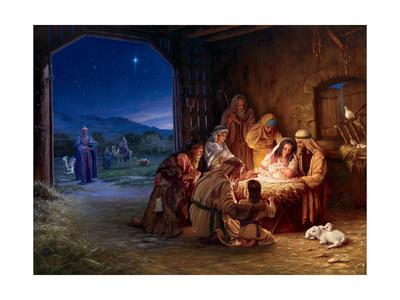 God, who am I that you are mindful of me?
How can I be so important to you – the Creator of the Universe?
I don't deserve such love and grace…
I could never repay such a gift…
I know I don't deserve this…
But here I am Lord.
I accept and receive this gift once more.
Create in me a clean heart.
Renew a right spirit within me.
All I can give you in return…is me, faults and all…every shred, every blemish, all of me.
Help me to receive this grace and love every day,
and to offer the same to everyone around me
both neighbor and stranger.
I love you Lord.
-Amen.